This is a recap of the WBC light heavyweight title fight between Adonis Stevenson and Tavoris Cloud!!
Zantrex-3 High Energy Extreme Fat Burner Caps — 56 ct.
I did not expect to see the fight that I saw tonight.  The way Adonis Stevenson fought tonight can be scary for the rest of the light heavyweight division.  Stevenson shock the boxing world by actually out boxing Tavoris Cloud, beating Cloud to the punch and just plain beating up Cloud.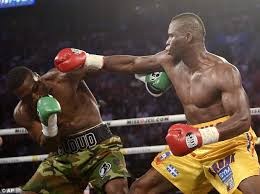 Photo Credit: dailymail.co.uk
Adonis Stevenson used a lot of movement to offset any offense that Cloud could muster up and just took over the fight.
Cloud was cut in the first round of this fight and just never recovered.  Stevenson grew more and more confident in the fight as Cloud's eye started to pour out more and more blood.
In the end, Cloud could not overcome the pressure and new found skill of the champion which led to the 7th round stoppage of Cloud due to he was unable to continue because of the cut on his eye.
Now, the sky is the limit for the new light heavyweight king Adonis "Superman" Stevenson.
Zantrex-3 High Energy Extreme Fat Burner Caps — 56 ct.
For more boxing news and articles continue to visit www.potshotboxing.com. If you like this post and other's from Potshot Boxing, feel free to spread the word to your favorite social media channels with your friends and family!! Potshot Boxing – "Boxing news and article bites for all walks of life."