Here are the boxing results for the Adonis Stevenson vs. Thomas Williams, Jr. WBC light heavyweight fight title.
Oh Man did the boxing world witness a great slugfest in Canada between Adonis 'Superman' Stevenson and Thomas 'Top Dog' Williams, Jr. for the WBC light heavyweight title of the world. Williams showed a lot of heart taking it to the champion in the fight, but his looping punches got him in trouble in the end.
The best fight of the month so far is definitely this fight between Stevenson and Williams as these 2 guys came out from the start of round 1 throwing bombs in hopes of ending the night early. The 1st big shot, however, would be scored in round 1 by the champion as he caught Williams with a left hand over the top as Williams was leaning down with no place to go.
Check out these great t-shirts provided by Potshot Boxing's (PSB) Championship Tees By PSB!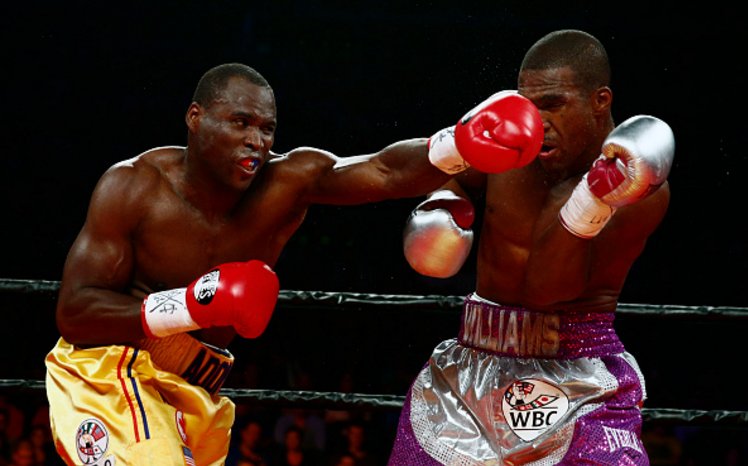 Williams got up from the knockdown and stormed back in round 2 with some good combinations of his own on Stevenson. Stevenson allowed Williams to back him up which caused him to get hit with some serious combinations and uppercuts by Williams. It was a great round for Williams, but both guys were still swinging for the fences in round 2.
It was more selling out with punches in round 3 as both men came out of their corners once again and swung for the fences. Williams starting teeing off with combinations on Stevenson behind a nice high guard which bothered Stevenson.
More action-packed fisticuffs were exchanged in round 4 as Williams continued to land brutal uppercuts; while Stevenson continues to land hard body shots. It was a war of attrition in the ring and it was simply a matter of time before one of these fighters was going to wilt.
Well it did not take long for the roof to cave in on Williams as Stevenson fought fire with fire and landed a perfect hard straight left hand on Williams' chin that sent Williams storming to the canvas face first.
Williams could not answer the 10 count, and Adonis 'Superman' Stevenson was awarded the 4th round KO victory as he retains his WBC light heavyweight strap in the process.
Conclusion
That was a great fight by Adonis Stevenson! You have to give him credit for taking on a very tough and roughed Thomas Williams, Jr. who did not come to Quebec, Canada to lay down. Thomas Williams believed that he had what it took to take the WBC light heavyweight title away from Stevenson and he gave Stevenson all he can handle.
So what's next for "Superman?" Well, he wants to fight the winner of the Sergey Kovalev/Andre Ward showdown. After the great performance he put on tonight in front of his beloved boxing crowd in Canada, it is clear that there is only 1 man that deserves a shot at Kovalev and Ward. That name is Adonis 'Superman' Stevenson!
FREE Cell Phone! 500 FREE monthly minutes. Get yours now!
For more boxing news and articles continue to visit www.potshotboxing.com. If you like this post and other's from Potshot Boxing, feel free to subscribe to this boxing website by entering your email address into the floating email form provided on this post! Potshot Boxing – "Boxing news and article bites for all walks of life."