The month of July was filled with a lot of great boxing action that was a mixture of graduating big name fighters to the next level in their boxing careers; and fighters who continue to frustrate the boxing world. In July, Sergey Kovalev continued to crush, Julio Cesar Chavez, Jr. continued to befuddle us, Keith Thurman passed the Collazo test, and Jean Pascal skated by with a controversial decision.
Get boxing tickets to all of the upcoming big fights here at PSB!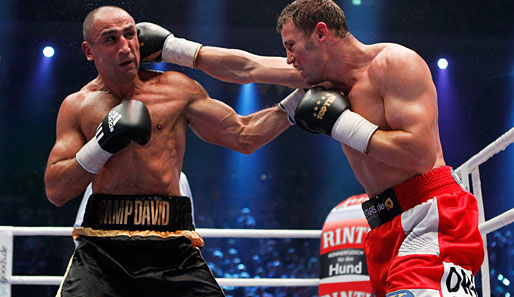 All of these fights were worthy of being chosen as Potshot Boxing's (PSB) Fight of the Month for July 2015, however, there was one fight out there that needed the boxing world's attention for closure purposes.
The 4th fight between "King" Arthur Abraham and Robert Stieglitz was the most intriguing fight in July given how both fighters wanted to prove that they were the fighter who was in control of this epic boxing series. For this reason alone is why Potshot Boxing chose "King" Arthur Abraham vs. Robert Stieglitz 4 as Potshot Boxing's (PSB) Fight of the Month for July 2015.
Over the past 3 years, "King" Arthur Abraham and Robert Stieglitz have battled each other all over Germany as they traded off the WBO super middleweight title in the process. Abraham won the 1st meeting between these 2 to capture the WBO super middleweight title. In the rematch, Stieglitz got his revenge as he stopped Abraham in the 4th round of the rematch to capture the WBO super middleweight title from Abraham.
In the rubber match, it was Abraham who skated away with the 12th round split-decision victory to re-capture the WBO super middleweight title. So now the stage was set on July 18, 2015 in Stieglitz's backyard to try and re-gain the WBO super middleweight title again, right? Well somebody should have told Arthur Abraham that he was going to lose his WBO super middleweight title because his veteran skills would not let him give in to the relentless pressure of Stieglitz.
Like Doritos? Get a Doritos Sample here!
Both fighters came out in the 1st round trying to take each other's head off. It was Stieglitz, however, who set the tone early in the fight as he cut off the ring, backed Abraham up against the ropes, and took advantage of Abraham's high guard by throwing as many vicious punches as possible while he had Abraham on the ropes.
A lot of the punches were missing, but Stieglitz's fast pace and work rate proved to win Stieglitz the 1st round easily in my humble opinion. In the 2nd round, Stieglitz continued his fast pace as he literally ran Abraham down to impose his pressure on him.
Stieglitz just kept swinging for the fences as every punch he threw at Abraham had fight ending intentions on them. He smothered Abraham at every turn in the 2nd round en route to another good round. After the 2nd round, I had the fight 2 rounds to 0 for Robert Stieglitz.
Abraham would wake up in the 3rd round by trying to stay off the ropes, but Stieglitz was not having any of that. He kept mauling and roughing up Abraham against the ropes, but Abraham would punctuate the round with a big overhand right that landed on the top of Stieglitz's head.
In the 4th round, Abraham let his high guard down and used his jab to try and control the fight in the center of the ring. Stieglitz kept his feverish pace up as he continued to chase down Abraham in hopes of wearing him down. As the 4th round continued, Stieglitz tried to get inside to land more clubbing shots on Abraham when he got caught with a perfect straight left hand that send him to the canvas.
Stieglitz would get up from the knockdown and proceeded to go after Abraham like I never seen a fighter go after another fighter. He backed Abraham up against the ropes once again and threw punches in bunches, but not enough to bring the round to an even round.
The 5th round would be a round where Abraham did a lot of grabbing and holding on Stieglitz because of Stieglitz's continued relentless pressure. Abraham seemed to be tiring in the 5th as Stieglitz ran him down and landed punches in bunches on Abraham. Now, all of the punches for Stieglitz were not landing, but Stieglitz's work rate easily stood out for the judges to see. Abraham did land a nice overhand right in the 5th, but Stieglitz was just too much for him in the 5th.
FanDuel! One-day leagues with no season-long commitment; 20,000+ leagues open every day.  Sign up today!
In the 6th, Stieglitz would test Abraham's stamina by applying unbelievable pressure once again. Stieglitz's pressure, however, would finally get him in serious trouble as Abraham caught him with a hard right hand, followed by a vicious combination to the head and body. Stieglitz tried to fight fire with fire in an attempt to offset Abraham's attack, but was countered by a perfect Abraham right hand shot that caused a delayed reaction to Stieglitz's body before he hit the canvas.
Stieglitz got up from the knockdown, but his corner waived the white towel in the corner and the referee acknowledged the gesture from Stieglitz's corner to stop the fight. "King" Arthur Abraham was awarded the 6th round TKO victory, thus, retaining the WBO super middleweight crown and cementing his control over this great boxing series.
Conclusion
This was a good ole fashion all action style fight!  Robert Stieglitz headed into the Gerry Weber Stadium in Halle, Nordrhein-Westfalen, Germany with every intention on re-claiming the WBO super middleweight crown and I give him a lot of credit for giving it everything he had from start to finish in the until there was nothing left.
I give Arthur Abraham credit as well for hanging in there and taking advantage of the recklessness of Stieglitz to get the stoppage because Stieglitz's reckless style was working in this fight so I feel that anything could have happened if Stieglitz's corner would have let him fight on.  With that said, however, Stieglitz did look shaky after the delayed knockdown so it was probably a really good stoppage by Stieglitz's corner.
So what's next for Abraham and Stieglitz?  Well, Robert Stieglitz has only won 1 out of his last 4 fights so he definitely needs to get somewhere and re-group.  As for Arthur Abraham, the 35 year-old WBO super middleweight champ may have 1 big name fight left in him; Boxing World, only time will tell.
Need a Tattoo? Find the perfect tattoo here at Infinite Tattoos to print off and take to your local Tattoo Artist to draw on you!
For more boxing news and articles continue to visit www.potshotboxing.com. If you like this post and other's from Potshot Boxing, feel free to subscribe to this boxing website by entering your email address into the floating email form provided on this post! Potshot Boxing – "Boxing news and article bites for all walks of life."