On October 9, 2016, the boxing world lost a great all-action hero in Aaron 'The Hawk' Pryor.  He was well known for the phrase "Hawk Time."  Whenever it was time for Pryor to enter into the ring, he would gather his crew together and chant "What time is it? Hawk Time!"  Pryor's enthusiasm alone would galvanize boxing fans around the world to get pumped and ready for another Hawk Time performance by the great Aaron Pryor.
Whenever Pryor would enter the ring, he would stare across the ring at his opponent and point towards his opponent as if to say "I'm gonna get you!"
There were a lot of fighters that should have fought Pryor in his prime.  Those fighters, however, either made excuses not to fight him or moved up to other weight classes to get away from him.  Pryor would finally get his just do in the ring on November 12, 1982, when he squared against another feared fighter in Nicaraguan Phenom Alexis Arguello.
Check out these great t-shirts provided by Potshot Boxing's (PSB) Championship Tees By PSB!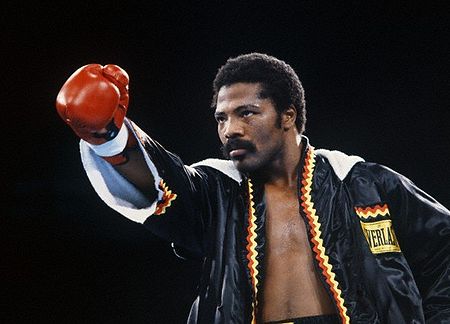 Pryor and Arguello gave that Orange Bowl boxing crowd in Miami, Florida a junior welterweight title fight that will be remembered by boxing fans forever.  That fight also was remembered for Aaron Pryor's infamous trainer Panama Lewis.  When Aaron Pryor was getting his much needed rest in the corner after round 13, Panama Lewis asked one of the other corner man to give him a water bottle that he mixed.
Now Boxing World, we all know that you can't mix water, so what was Panama Lewis talking about?  I am not sure, but, I know that Aaron Pryor was a warrior, and he did not need a mixed bottle.  Aaron Pryor would go out in the 14th round of that fight and stop the great Alexis Arguello.
The 1st fight between Pryor and Arguello was named "Fight of the Decade" by RING Magazine.
On September 9, 1983, Pryor and Arguello's paths would cross again at Cesars Palace in Las Vegas, Nevada.  This time, however, with the help of Pryor's new boxing trainer the great Emanuel Steward, Pryor controlled that fight from start to finish en route to knocking out Alexis Arguello in 10 rounds.  In 1996, the great Aaron Pryor was inducted into the International Boxing Hall of Fame.  This was a well deserved accomplishment for Pryor as he beat all but one fighter that ever stepped into the ring with him.
Boxing World, how will you remember the great Aaron 'The Hawk' Pryor?  Feel free to leave you comments at the bottom of this post.
FanDuel Fantasy Football! You could be winning right now. Sign up today!
For more boxing news and articles continue to visit www.potshotboxing.com. If you like this post and other's from Potshot Boxing, feel free to subscribe to this boxing website by entering your email address into the floating email form provided on this post! Potshot Boxing – "Boxing news and article bites for all walks of life."