This is a recap of Mickey Rourke's surprising return to the ring after a 20 year layoff!
Own Mickey Rourke movies today! Click here!
62 year old Mickey Rourke returned to the ring today in Moscow, Russia and knocked out 29 year old Elliot Seymour in 2 rounds.  Mickey Rourke, (7-0-2) who has not fought since September of 1994, went into the ring in great shape and took care of business early in an exhibition fight that should have went the distance.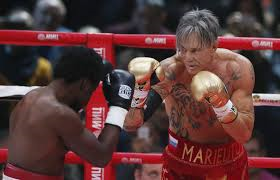 Photo Credit: nbcnews.com
Elliot Seymour, (1-10-0) is just not a fighter that could threaten a fighter who was 80 years old and returning back to the ring after a 20 year layoff.  I am not taking anything away from the impressive return to the ring by Rourke, but he truly fought an almost winless fighter who was punching and hoping that no one answers.
In the 1st round of this fight, Rourke used the ropes to lure Seymour in to land some good punches on him when he tried to land on Rourke.  The fight was definitely fought at a super slow pace as Rourke, to his credit, set the pace and Seymour seemed to be waiting to lose the fight because again, he just looked like a fighter who did not want to get hit.
In the 2nd, Rourke did more of the same leaning on the ropes and tagging Seymour as he tried to land on Rourke.  It just looked so unorthodox how Rourke would slowly go back into the ropes and then catch Seymour with some hard body shots.  Again, I give Rourke credit because his boxing game plan was unorthodox, but effective.
Own Mickey Rourke movies today! Click here!
Rourke's game plan would pay off as he would catch Seymour with a hard right hand shot to the body that sent the 29 year-old Seymour to the canvas.  Seymour would survive the body shot only to get up off the canvas and get hit with some hard clubbing lefts and rights to the body by Rourke which sent Seymour back to the canvas again.
Seymour would not beat the referee's 10 count this time and Rourke was awarded the 2nd round knockout victory.
Conclusion
You have to give Rourke some credit for climbing back into the ring at 62 years of age and beating a guy that is 33 years younger than him.  However, Seymour is simply a Class D fighter so how much credit should Rourke get for this monumental feat?
Boxing is the hurt business so I cannot take anything away from Rourke, but he fought a fighter who had a boxing record equivalent to a losing college or pro football team's record.  So what's next for Mickey Rourke, a promising revamped boxing career or another run on the big screen?
Boxing World, you decide.
Own Mickey Rourke movies today! Click here!
For more boxing news and articles continue to visit www.potshotboxing.com. If you like this post and other's from Potshot Boxing, feel free to spread the word to your favorite social media channels with your friends and family!! Potshot Boxing – "Boxing news and article bites for all walks of life."